The Victorian novel, like Victorian poetry, was essentially an illustrated form. In an age before television and film, and with only limited access to fine art, audiences were engaged in a process of reading and looking as they perused their dual texts. The idiom was established in the late 1830s and practically every major novelist -- the only notable exceptions being the Brontës -- partook in the discourse of illustrated fiction, an arrangement that produced some productive partnerships. Dickens, the creator of illustrated serial fiction, had his great collaborations with Cruikshank, Phiz, Leech, and Stone; Thackeray, though mainly a self-illustrator, worked with Doyle and Walker; Trollope was partnered with Millais; Eliot with Leighton; Gaskell (posthumously) with du Maurier; H. G. Wells with Goble; and Conan Doyle with Paget. Ainsworth, Braddon, Collins, Reade, Hardy, and Henry James were likewise served by a variety of artists. The same is true of Robert Louis Stevenson, whose late Victorian romances were extensively illustrated. Yet unlike the pictorial work done for the other major novelists, which has been the subject of extended scrutiny and forms a central part of the emerging discipline of Illustration Studies, Stevenson's engagement with the discourse of the illustrated novel has received only limited attention.
It now gets full attention from Richard J. Hill, who positions his book within the long critical tradition of interdisciplinary studies that focuses on this hybrid and most challenging of forms. Taking Stevenson's work as a whole, Hill traces the diverse ways in which illustrators made sense of The Black Arrow, Kidnapped, The Master of Ballantrae and other, less famous works. Since Hill reads their work through the lens of Stevenson's sometimes outspoken views on the function of illustration, the book is principally an interpretation of the novelist's opinions. Drawing on an impressive range of resources, Hill explores Stevenson's desire to be illustrated while also considering his fears of how illustration might subvert, challenge, or even undermine his authority.
These themes are traced in an introduction and five crisply written chapters. In the introduction Hill establishes Stevenson's knowledge of illustrated fiction, contemporary theorizing about its role, and, most importantly, his development of a clear aesthetic of the "pictorial text." According to Stevenson, Hill argues, illustration should aim to "elucidate text without deviating from it ... without adding erroneous detail or missing crucial textual detail" (5). Stevenson also believed that writers needed to be illustrated for commercial purposes. As Hill remarks, he was "competing with many forms of professionlly illustrated, highly popular fiction" (9) and his work practically required a pictorial accompaniment in order to succeed in the highly-competitive book market of the time.
Since finding the right collaborators was a prime consideration, Hill's first chapter explores Stevenson's "ideal illustrators." Though Crane, Caldecott, and Pyle might have illustrated A Child's Garden of Verses, they never became his collaborators: a story of missed opportunities. More fruitful is Stevenson's use of maps as illustrations. As Hill penetratingly observes, the cartography deployed in Treasure Island and Kidnapped "creates a series of intertextualities" which positions the novels within "historical and contemporary cartographical texts" and influences "a series of authors, illustrators and film-makers over the following decades" (35).
The next two chapters not only explore Stevenson's concept of illustration as an interpretive tool but also, fascinatingly, his own work as an artist who created wood-engravings for his Moral Emblems (1882):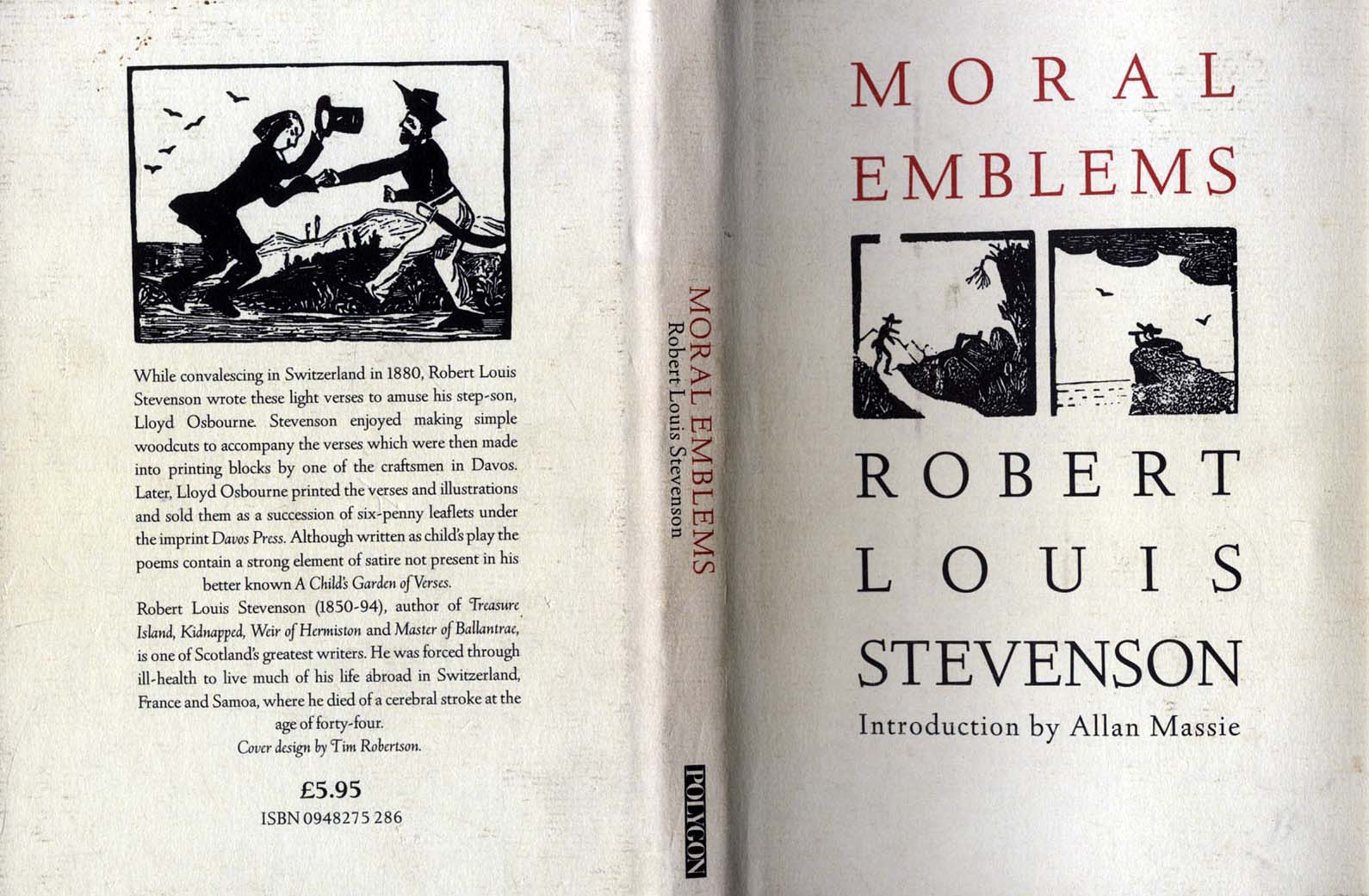 Making woodcuts was a learning experience, Hill claims, giving Stevenson the opportunity to "put some of the theories of illustration he was writing about into practice" (93--94) and to discover the practical difficulties of translating a written text into a pictorial one. In the final two chapters, Hill interestingly considers how Stevenson's artistic collaborators illustrated "British subjects" (110) and "The Pacific" (153). Hill also throws valuable new light on the way Stevenson's fiction--short stories as well as novels--was illustrated by a variety of lesser-known artists such as Alfred Brennan ("The Ebb Tide"), William Hatherell ("The Isle of Voices"), and William Hole ( The Master of Ballantrae). In conclusion, Hill writes, a study of these collaborations and of the writer's reflections can help scholars "understand Stevenson's contribution to popular publishing" and gain new insights into the development of the "Victorian illustrated novel towards the end of its reign in the marketplace" (208).
The point is well made, and Hill's interpretation, supported by wide-ranging reference, contains many such insights. As noted earlier, the book's main strength is its highlighting of Stevenson's writing on illustration, which enriches existing scholarship in the field because Victorian novelists rarely wrote about illustration in detail. Most of their comments were made in letters to artists, many of which have disappeared; and other critical comments, such as in Dickens's review of books illustrated by Doré, or in Thackeray's account of Cruikshank, are generalized and undeveloped, always creating a sense that the authors could and should have said much more. Hill's discovery of Stevenson's attitudes to illustration, therefore, is a very valuable addition to our understanding of how writers understood pictorial discourse and how they might have regarded the work of their collaborators.
Nevertheless, the author could have extended or re-focused his arguments in a number of areas. Although the book's focus on Stevenson's views is illuminating, Hill misses an opportunity to say more about illustrations from the illustrators' point of view. Critical reading of the bi-modal text is a tricky business because it involves a partnership, but Hill always assumes--and reiterates -- that "[i]n an illustrated novel, the text, not the image, should be the authoritative medium, and good illustrators should be loyal [to] the details and the spirit of the story they were illustrating" (6).
While this is Stevenson's point of view, Hill does not question it. Certainly, the written text is the "authoritative medium" in the exact sense that the illustrations originate from the writing. But "good illustrators" need not always "be loyal to the details," or, by implication, the letter of the word. On the contrary, some of the best Victorian illustration springs from the artist's individual reading of his literary source -- as in Cruikshank's designs for Dickens's Oliver Twist and Millais's interpretive imagery for Trollope's novels. Indeed, Hill does not recognize that by the end of the century, Stevenson's attitudes to illustration were essentially out of date.
Stevenson, we are told, feared that illustrations could "mould or usurp a text" (15) and challenge the primacy of his authorship. But Hill does not sufficiently recognize that following the Pre-Raphaelites' reworking of graphic design in the 1850s, illustrators of poetry and fiction commonly became co-authors in producing a book and generating its meanings. While Stevenson believed, and Hill asserts, that illustrators were servants of authors, almost every illustrator from the middle of the century onwards interpreted literary works as they saw fit. Stevenson may have wanted to control his collaborators, but apart from Dickens and Thackeray, barely anyone managed to do so. Leighton illustrated Eliot's Romola as he wanted, Du Maurier's illustrations for Braddon were self-motivated, and so were the diverse productions of Hardy's illustrators. It might have been interesting, then, to compare Stevenson's attitudes with those of earlier novelists and of his contemporaries.
Hill might, for instance, have compared Stevenson's views on illustration with those of George Du Maurier in "The Illustrating of Books from the Serious Artist's Point of View" ( The Magazine of Art, 1890). Such a comparison would also illuminate the cultural setting of Stevenson's pronouncements on what illustration could and should do, for I doubt if any of his own illustrators would have agreed with him.
In other words, while Hill most ably interrogates his subject from a literary point of view, there is a shortage of art-historical context and connection between the written texts and their graphic accompaniments. The linkages that are mentioned are generally sound, but a number of errors and typos, such as Halbot Browne (97) for Hablôt K. Browne, do not assist the argument; and while Copping and Hatherell feature in the text, they are not identified in the index. This lack of precision further undermines the analysis of the illustrations themselves, which are discussed in only limited detail and represented, it must be said, by some very poor reproductions. All are confined to half or quarter page, making them difficult to interpret, and at least one, William Hole's design for The Master of Ballantrae (145), is so badly reproduced as to be virtually worthless as a reference for the text. The grey half-tones of the period do not transfer effectively to the demands of modern book-making, especially when they are reduced. The author, with no control over the publication's technical specification, is not at fault here. But it is a great pity that a book on attitudes to illustration, and the value of illustration, is so poorly illustrated.
With those reservations, this book is still a well-written and persuasive piece of original research. It adds materially to the study of late Victorian fiction and it provides an entrée to further investigation of Stevenson's illustrated texts. In common British parlance, it "does what it says on the tin": it sets out to provide a case study in the Victorian illustrated novel, and does so quite intriguingly by focusing on a writer whose claim to be an "illustrated writer" is based on his own pronouncements. Re-framing Stevenson in these terms, Hill extends our understanding of the discourse as a whole and provides a valuable study of the tradition in decline. Never again would fiction be illustrated as it was in the nineteenth century. In the next century, literature would be visually re-created in film, and ultimately in television, rather than depicted with ink on paper. Hill demonstrates that in the declining years of Victoria's reign the composite novel was still an important cultural artefact, and his study, despite my cavils, is valuable reading for Stevenson specialists and for others with an interest in Victorian inter-mediality.
Dr Simon Cooke is the editor for book illustration and design on the Victorian Web. He is the author of Illustrated Periodicals of the 1860s (2010) and the co-editor of Reading Victorian Illustration (2012).